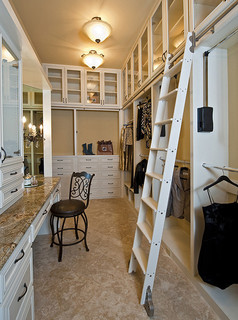 The term "rolling library ladder" may conjure up some antique visuals. Ladders rolling on long tracks throughout cavernous library rooms; an old mansion's designated library with a propped ladder near the shelf. The truth is that rolling ladders have moved beyond the library. The term may still apply to the hardware, but the implementation can be just about whatever you can imagine. While less common in the US, in other countries building up instead of out is more logical. So if you're thinking of a way to expand that only requires a ladder instead extra square footage, you can save time and money.
Commercial Uses
Ladders can provide function and style to the home or a commercial business. A large wine store can utilize the rolling ladder so that employees can safely stock and grab bottles. Retail stores can similarly use the ladders for those hard to reach items without having an obstructing stool or creaky ladder to grab from the back room. Even the bigger box grocery stores could install a ladder for their backroom operations.
Easy Sliding Storage
One of the barriers to installing a rolling library ladder is that it seems like it would take up a great deal of space. Potential customers might picture walking into the ladder in the kitchen or living room, where it would be more of an annoyance than a convenience to reach high cabinets and shelves. With new rolling ladder technology, though, these problems are no longer a big concern. For example, the wheels are metal, rusting, or loud. CSH's rolling library ladder has the Quiet Glide system, which has nylon upper wheels and rubber wheels on the lower hardware to let the ladder move smoothly and quietly.
The other issue of storage is also taken care of with the newer hardware. The sliding mechanism at the top of the ladder lets consumers lift the ladder up to a stored position solidly against the wall. When you're ready to use the ladder, it can easily be moved back into the climbing position. This way the inactive ladder doesn't have to be an inconvenience and you can mostly forget about or consider it another piece of wall art when in the stored position.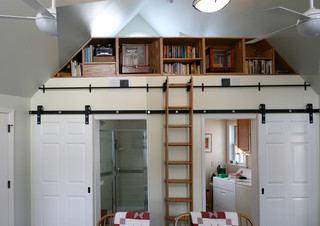 Splicing Together
Piecing together rails isn't too difficult with well-made equipment. Usually found in 8-foot and 4-foot sections, these pieces can be attached with steel pins and bars and then tightened with a set screw. This way you can create the railing to fit the exact length you need for the ladder. Most manufacturers offer curved rails with various degrees so you can even fit the ladder track around corners.
Check out this video for a great interactive look at everything described above!