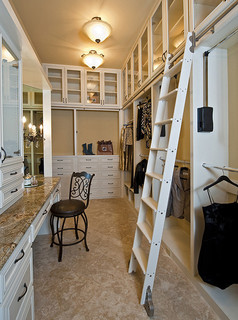 The term "rolling library ladder" may conjure up some antique visuals. Ladders rolling on long tracks throughout cavernous library rooms; an old mansion's designated library with a propped ladder near the shelf. The truth is that rolling ladders have moved beyond the library. The term may still apply to the hardware, but the implementation can be just about whatever you can imagine. While less common in the US, in other countries building up instead of out is more logical. So if you're thinking of a way to expand that only requires a ladder instead extra square footage, you can save time and money with a quality sliding ladder from Custom Service Hardware.
Commercial Uses for Rolling Ladders
The rolling library ladder can provide function and style to any business that relies on shelves or stock rooms. A large wine store can utilize the rolling ladder so that employees can safely stock and retrieve bottles. Retail stores can similarly use sliding ladders for those hard to reach items without having an bothersome stool or bulky ladder to grab from the back room. Even the bigger box stores could install a rolling ladder for their store room. Our Putnam ladders have long been used in clothing and dry goods stores, and they make a winsome addition to modern shops with retro or vintage décor. Look at our E-Glide sliding ladders for stock rooms or boutiques, and any business with an industrial or contemporary European vibe can add value with an ALTA rolling metal ladder.
Home Rolling Library Ladders Maximize Space Safely
The creaky wheels and tripping hazards of past rolling ladders are no longer a concern for today's homeowners. Custom Service Hardware's Quiet Glide rolling library ladder has nylon upper wheels and rubber wheels on the lower hardware, so the ladder moves smoothly and quietly. Get an equally gentle, quiet ride on our E-Glide and Putnam wooden rolling ladders. Rest assured that the ALTA metal rolling ladder features ultra quiet engineering for a wheel and brake system that barely makes a sound.
The issue of space is also taken care of with the newer rolling ladder design. The sliding mechanism at the top of the ladder lets you shift it into a stored position so it rests against the wall. When you're ready to use the ladder, simply shift it back into the climbing position. This way, the inactive ladder doesn't take up extra floor space or become an obstacle. Consider it another piece of wall art when it's in the stored position.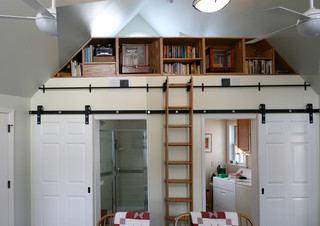 Splicing Together Rails for Your Rolling Library Ladder
Piecing together rails isn't too difficult. Usually available in 8-foot and 4-foot sections, these pieces can be attached with steel pins and bars and then tightened with a set screw. You can create the railing to fit the exact length you need for the ladder. We also offer curved rails in varying degrees so you can fit your sliding ladder track around corners.
Check out this video for a great interactive look at everything described above!